Mission Statement
Recognizing and celebrating God's love through worship, study and fellowship, we, as a family of faith, seek to live in the spirit of Jesus Christ by being open and caring to one another, welcoming all and reaching out to the world with hope.
Énoncé de mission
Reconnaissant et célébrant l'amour de Dieu par le culte, l'étude et la communion, nous, en tant que famille de foi, cherchons à vivre dans l'esprit de Jésus-Christ en étant ouverts et attentifs les uns les autres, accueillant tous et atteignant le monde avec espoir.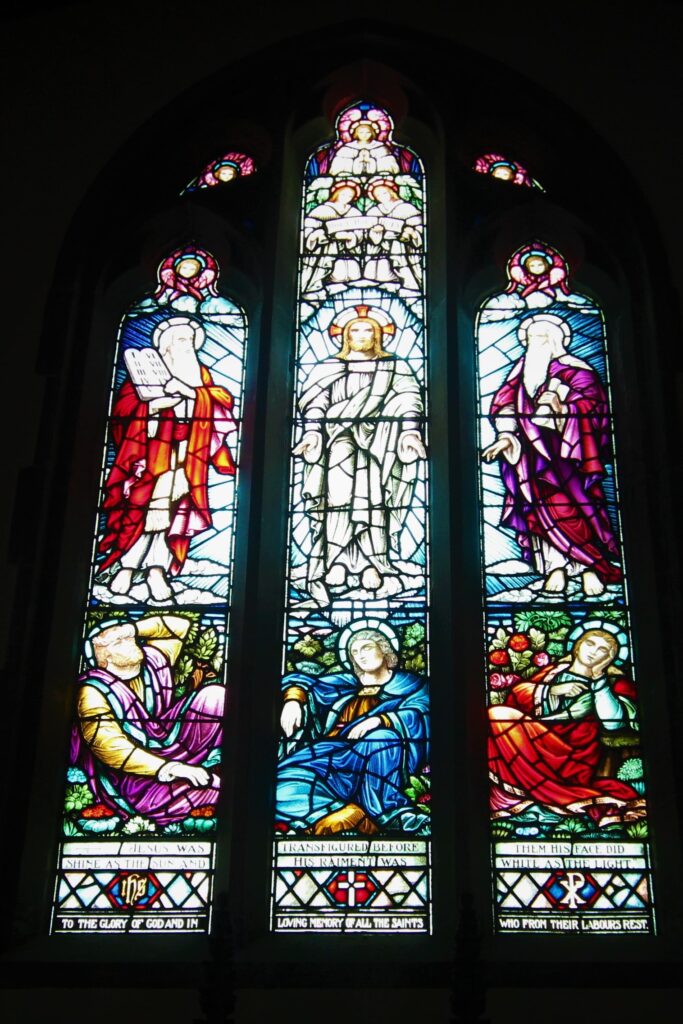 Our Leadership Team
Minister.……………………………………………………………………Reverend Jennifer Mountain
Organist and Choir Director.…………………………….…….Vacant
Office Administrator.…………………….…………………………Donna Tremblay
Child & Youth Christian Development Coordinator…Dawn Moore
Handbell Choir Director……………………………………………Jérôme Savoie
Our Committees, Groups & Teams
The church is managed by a Church Council which is composed of the minister and a representative of each organizational unit and group. Please click on any of the unit or group names below for more information.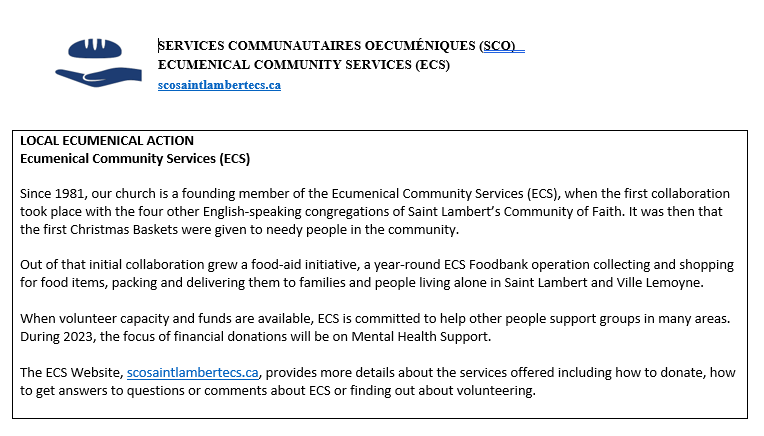 Brief History of The United Church in St. Lambert
As early as 1855 a small group of Methodist Protestants began holding worship services in a rented building in St. Lambert. By 1866 they had erected a church building on Victoria Avenue that seated 150 people and was named Wesleyan Methodist Church (later renamed St. Lambert Methodist Church).
During the same time period a group of Presbyterians, too small in number to have a church of their own, worshipped with the Methodists. As their numbers expanded they wanted their own building and by 1892 were able to construct a church located between Victoria and Lorne Avenues. It was named St. Cuthbert's Presbyterian Church.
In 1925 Methodist, Congregational, and 70% of Presbyterian churches across Canada agreed to join to form a new church organization. By an act of Canada's Parliament, the United Church of Canada was born.
For the next two years both the St. Lambert Methodist and St. Cuthbert's Presbyterian churches continued to operate under the banner of the new United Church.
Finally, in 1927, the two churches formally merged into St. Lambert United Church. They used the St. Cuthbert's building for worship services and the Methodist building for the church school. The congregation wanted to build a new, larger church, but the advent of the Great Depression forced them to postpone the realization of their dream for a number of years.
At last, in 1937, the new building was constructed, in its current location, on Desaulniers Boulevard between Notre Dame and Mercille avenues. St. Lambert United Church, seating 490 people, was dedicated late that year.
In the years that followed, expansion took place with the addition of a manse next door to the church (built in 1946 and sold in 1994), a large meeting hall (1949) and a Christian Education building (1956).
With the additional space, the church quickly launched two fundraisers—the first fall Rummage Sale was held in 1959 with the first spring Antiques, Arts & Crafts Sale following in 1967. These two events continued annually for many years as an important part of community life in St. Lambert.
Beginning in 1998, when the St. Lambert Baptists sold their building, the United Church congregation welcomed them to join in worship services. The two congregations continued to worship jointly until the Baptist Church was dissolved in 2008, due to declining membership.
The St. Lambert United Church complex continues to actively serve its congregation and the community to this day.